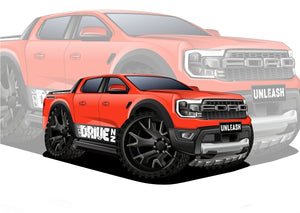 What is an EVC Throttle Controller?

Our EVC Throttle Controllers are a plug and play throttle controller that gives you complete control over the responsiveness of your vehicle. It does this by providing new points of reference for your throttle mapping, introducing either a sharper or duller throttle curve depending on what mode/setting has been selected.


ULTIMATE 9 MODE
For maximum throttle enhancement, Ultimate9 mode instantly sets the pedal response to U9, the highest setting.
ULTIMATE MODE

Ultimate Mode offers 9 sensitivity levels, this allows the driver to tune the controller to the desired level of sensitivity. Choose level 9 and grip the steering wheel tight or hit level 1 for a gentle smooth acceleration. (9 Levels)
LAUNCH MODE
Instantly set the pedal response to the highest setting. However, the input is slightly modified compared to Ultimate9 mode, reducing the likelihood of wheel spin & increasing traction.
ADAPT MODE
Set & forget - automatically choose the best, enhanced throttle response based on the pressure applied to your throttle pedal.
ECO MODE

ECO mode is designed for economy by reducing the accelerator response time. Also handy when you are on the trails and looking for a bit more throttle control when crawling.
ANTI-SLIP MODE
Reduce your maximum throttle response and limit your RPM. The greater you set the sensitivity, the slower & more controlled your throttle response becomes. (9 Levels)
VALET MODE
Designed for parking, Valet mode reduces throttle response whilst limiting the available throttle to provide approximately 50% maximum RPM.
FACTORY MODE
Bypass your throttle controller and revert back to a factory feel.
LOCK MODE
Add an extra level of security to your vehicle by blocking all throttle input from the accelerator pedal so nobody can steal your pride & joy.
Our EVC Throttle Controllers are a plug and play product, easily installed in 5-10 minutes. If you can change a lightbulb on your vehicle you can install one of these! Simply connect in-line between the factory plug and throttle pedal assembly. The Display/Controller can be placed on the dash or console of the vehicle.
*Please note: due to LED lights, the driver interface should be positioned so as not to distract the driver.*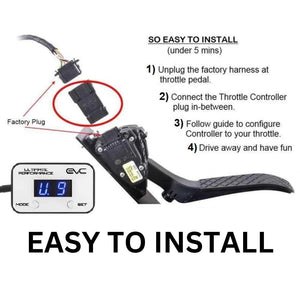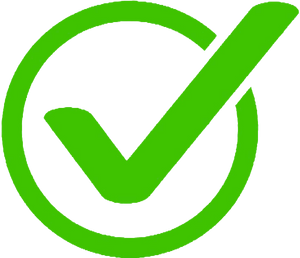 Safe to Use
Our Throttle Controllers are 100% safe to use. As part of development, we test the controllers to ensure they do not override or impede any vehicle safety features. Each controller is also then subject to a quality control test before packaging.
Once that's all said and done, we further support our Throttle Controllers by backing them with a lifetime replacement warranty & 30-day money-back guarantee. So you have confidence & peace of mind in your purchase.
Controllers developed for newly released vehicles are also stringently tested before their release to ensure optimal performance & compatibility.
EVC-X iOS and Android App
Simple to use, this app allows you to easily explore your EVC-X's layouts, colour schemes, modes and sensitivity levels. Free to install via the Apple App Store, Google Play or QR code provided in the EVC-X instructions.
We cannot guarantee compatibility with all phone types.
How to install your EVC Throttle Controller (Plug & Play)
---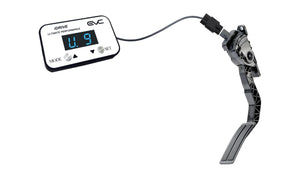 Find your vehicle:
What Our Customers Are Saying